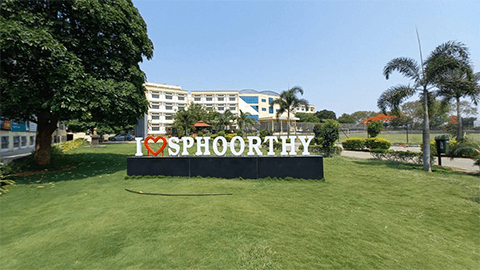 Welcome to Sphoorthy Degree College
Sphoorthy Degree & PG College provides education to empower the students to recognize and optimize their full potential to achieve excellence in academic work and develop highly skilled human resources with the perspective to enable them to adapt to an intellectually and technologically changing environment. The institution imparts quality education and helps students to equip themselves with creative, analytical and academic abilities & managerial qualities which will enable them to have a successful career.
The college is located in a very beautiful eco-friendly environment which provides students a serene and calm atmosphere ideal for learning.

Our Vision
To be one of the excellent institutions for holistic development by providing a creative and productive learning environment and shaping the students into future professional entrepreneurs and above all morally upright human beings.
Our Mission
To achieve academic excellence.
To build professional competence.
To instill moral integrity, self-esteem and self-confidence.
Goals and Objectives
To provide value-based education.
To create citizens who have a harmonious blend of traditional values and professional skills.
College Dost Code : 11191
Our Teachers and Students Achievements
Class
Graduated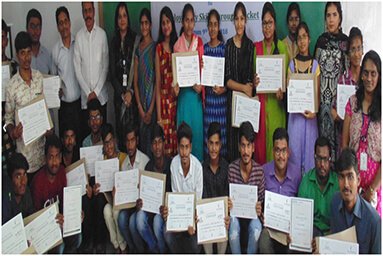 Students
Libary
Our Students Talk About Us
K.DURGAPRASAD
"During my time at SPDC, I have had access to unique opportunities to focus my studies on topics of my interests and to prepare myself to enter the job market with confidence and a sense of direction."
N.SRAVANTHI
Sphoorthy Degree & PG College gave me many motivational moments by providing scholarship. I would like to express my gratitude for the scholarship provided by Sphoorthy Degree & PG College. I feel very proud to say I am a student of Sphoorthy Degree & PG College.
SHIVANI
The deep faith in the dictum "One's own reaction to, observations about and understanding of something are more important than someone else's opinion about it." Sphoorthy Degree & PG College, became the cornerstone of, and this cherished conviction inspired and guided me to spread my wings to fly.
VANI
My time at SPDC was an experience I will cherish forever. I am very proud to be an Spdc'ian. My college has given me a wonderful life with good career and continuous motivation by giving scholarship.The Friendly attitude of the staff and their willingness to always offer a helping hand has made me feel a part of the SPDC family.
DEEPIKA
Sphoorthy educates students in a very creative way and encourages them to think out of the box. The staff and teachers are very passionate and show a genuine desire to help students to achieve their goals. The college has great modern facilities which promote a great learning environment and flexible schedules that suit meet the needs of a student like me.
MALLESH
"I am extremely grateful to the management and staff for their tireless efforts to ensure a bright and prosperous future for us. During my study period I found the college to be the best for me as the staffs were able to deliver the best of education. Staff members were always ready to help. I am happy to recommend everyone whoever is planning to make their future with SPDC."
NALLA NIKHIL
Sphoorthy Degree & PG College is good at education. The management and the trustees help the students in their placements and provide their supports for the students in their career. I am extremely grateful to the management and staff for their tireless efforts to ensure a bright and prosperous future for us. The skills I have gained through my graduate studies at Sphoorthy Degree & PG College have equipped me to accomplish my professional goals.
NARSIMHA
"Sphoorthy Degree & PG College offered me a very good learning environment excellent teachers, infrastructure, and library facilities. I have been able to develop as a student by the knowledge acquired and as a person due to encouragement I received by all. The organization provides so many facilities for learning and updating our knowledge. Sphoorthy Degree & PG College helps me to improve personality as well as overall aspects towards life. The staff is cooperative and teachers always help students"
MADHU MOHAN LAL
Our world is a global village where education plays a very crucial and wide role in every person's life. It was the same for me also when I finished my school education. I was determined to join engineering but was confused which college to join. That was the moment when I got to know about Sphoorthy Degree & PG College. I went to the college, saw it for myself. When I saw the facilities in the college I was impressed by the infrastructure. The way all the staff members and management approached me and my parents came to a conclusion and satisfaction that I was in safe hands. All these four years I was trained in my specific subjects by the most efficient faculty members for which I am extremely grateful to all my faculties. Now with all the knowledge that I was provided with by the faculty members I have been placed in IBM, one of the most reputed organization. I would like to thank and extend my sincere gratitude to the Management, Head of the department and all the Faculty members at this juncture. I feel extremely honored to call myself a part of this prestigious institution.